Snowballs, 2011
Matter: Acrylic mineral, Magnesium sulfate, Polyethylene
Dimensions: 52 × 52 × 2 cm | 20½ × 20½ × ½ in
Assemblage

Bangballs, 2015
Matter: Lycopodium, Polyethylene, Wood
Dimensions 52 × 52 × 2 cm | 20½ × 20½ × ½ in
Assemblage
Grindballs, 2015
Matter: Polyethylene, Sand, Wood
Dimensions 52 × 52 × 2 cm | 20½ × 20½ × ½ in
Assemblage

Hardballs, 2015
Matter: Cement,  Polyethylene, Wood
Dimensions: 52 × 52 × 2 cm | 20½ × 20½ × ½ in
Assemblage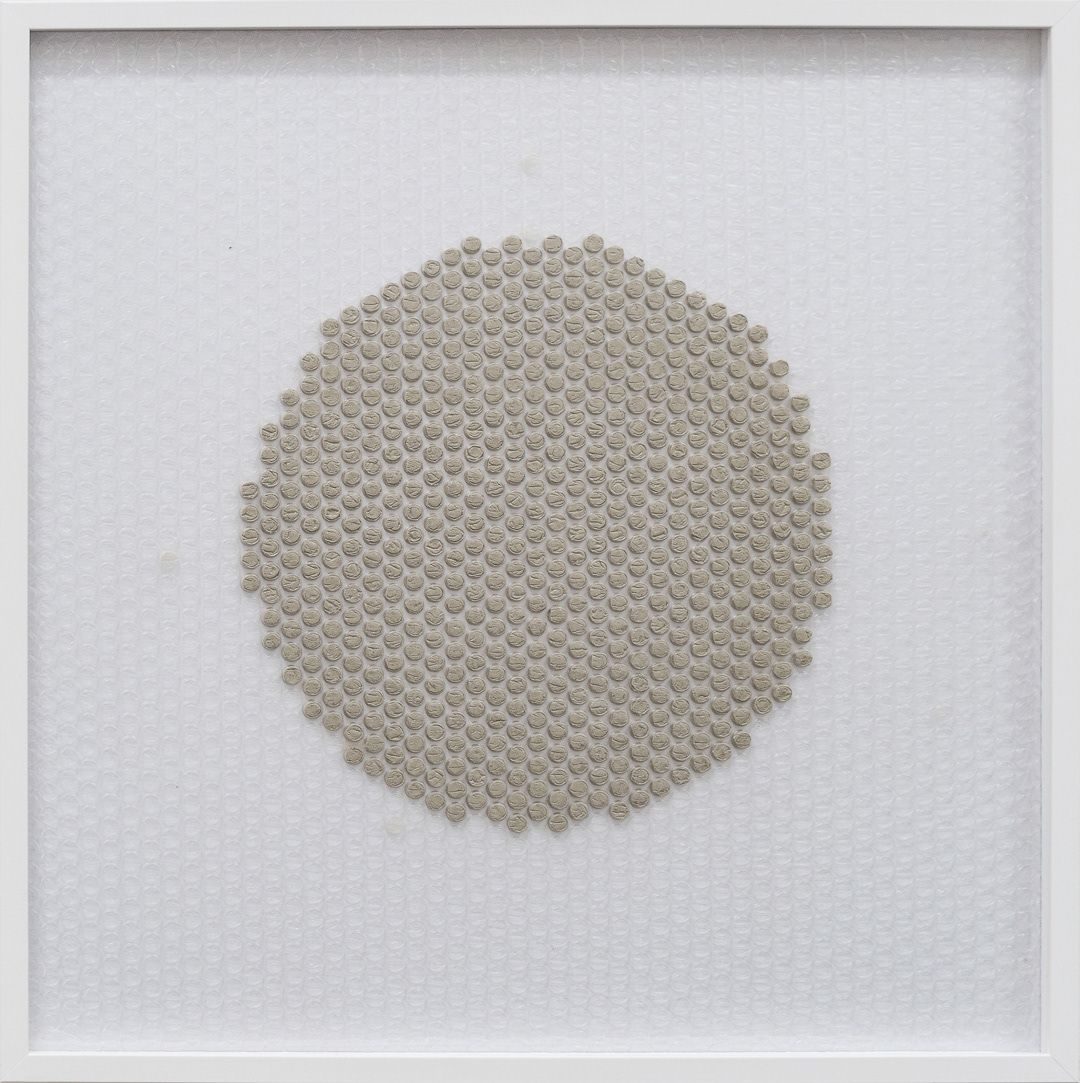 The Ball Series is about the theme of exploitation. Each work combines a specific material, either cement or lycopodium, (sand or magnesium-sulfate as in Grind Balls and Snow Balls), with the non-degradable polyethylene of a bubble wrap. The materials are sealed in the bubbles of the aeroplast film. 
The materials relate to a complex of a thematic complex like construction (cement), combustion (lycopodium), and exploitation of the earth as a common home (sand); each theme represents a different aspect of the masculine ideal of Homo Faber which rhymes with the old-testamentarian image of man dominating the earth: "God said, Let us make man in our image according to our likeness, and let them rule over the fish of the sea, and over the fowl of the heaven, and over the beasts, and over all the earth, and over everything that creepeth and moveth on the earth. "First Book of Moses, Genesis Verse 26.  
In one word: The three works conserve the fetishes of modern homo faber, the belief in a human to shape, control, and create the world in line with human desires and needs which parallels a rather respectless degradation of the planet, nature, and especially all non-human lifeforms. The titles that refer to pornographic categories and sex work slang transpose the theme of the exploitation of the planet into the domain of the exploitation of the own body in order to close the circle of abuse of the planet against the abuse of humanity itself.