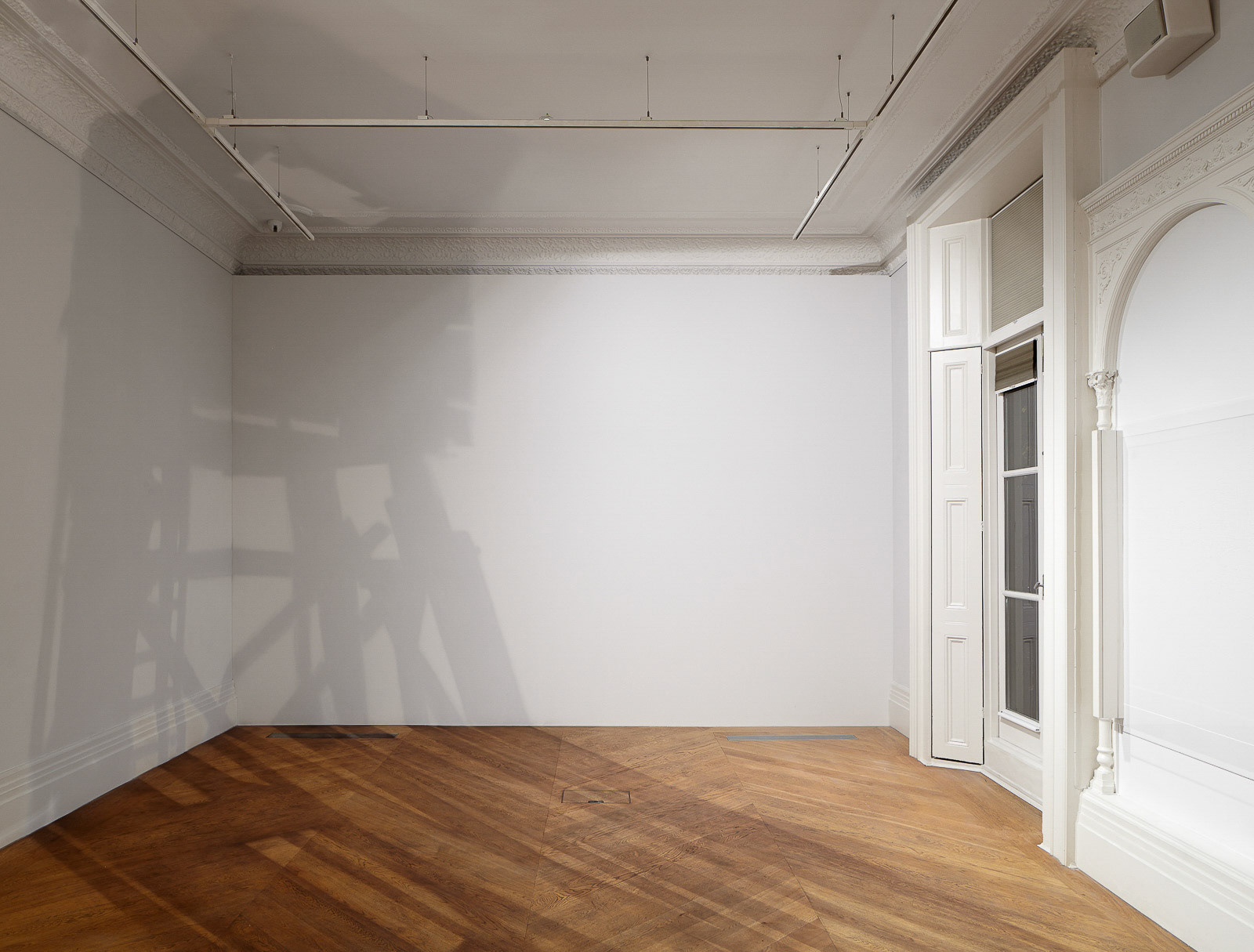 A shadow is present through the absence of light, it emerges here and now from a source of light and an object absorbing this light. Why a shadow without an object? What would that be — a contradiction? Some people say that art has to provide unusual aesthetic experiences. A  shadow lacking its object is an unusual aesthetic experience, and an
object that perfectly expresses this contradiction is the system of surveillance. Monitoring systems aim to see without being seen. The surveying eye is hidden; what remains is the feeling of being observed. But who is observing and who is observed? I became interested in the
contradiction of present absence, expressed by a shadow without either a source of light or physical object. I chose a hunting stand as the object, for the hunting stand is used for the observation of wild animals who are most probably not aware of being observed. This parallels the structure of mass human surveillance, before methods of signal intelligence became publically known. The hunting stand is the place of the unobserved observer, who can be present only because he is meant to be absent. More than the observer, it is first of all the place of the hunter, who has the power to make the difference between life or death. It is the place of judgement, that can hit someone out of nowhere — like a drone killing a suspect individual from the sky.

How does surveillance work? The word Big Data is quite current these days. It indicates a new kind of surveillance that seems to be very different from older forms of control. For thousands of years, people were used to seeing their guards. A watchtower, for example, had a double function. It was built high to see better and to be better seen from afar. It worked well because it reminded everyone of being watched. New systems of mass surveillance prefer to remain invisible. Signal intelligence operates like a spy; connected to access points and transfer cables it is monitoring all sorts of traffic and data, sniffing packets (emails, images, videos, web pages, etc), following our IPs and recording our voices. This invisible power is restlessly gathering information without giving any information back. It is collecting, holding, interfering, analysing our habits, desires, interests, occupations… it already controls our life like a guard on the watchtower. The moment we learned about the existence and the work of those systems of control was also the moment when we — consciously or not — changed our behaviour. Today we are aware that we are observed and know very well what our observer is looking for. Thus we avoid actions that could alert the intelligence services and conform to fit their acceptable profiles. We are haunted by this power, always present through its absence, real but invisible. Of course, this is not haunting in terms of what Avery Gordon calls 'ghostly matters' (Gordon 2008), but we do know that it brings the horror of Kafka's The Trial into our everyday life.